HAUKLAND TESTED BY PHOTO MAGAZINES
AWARDED WITH THE GRADE "VERY GOOD" 3X
Bühl, 31.Mai 2021 –
Haukland, the clothing brand for photographers, (www.haukland.de/www.haukland.us) was awarded the test grade "very good" in three tests by the photography magazines DigitalPHOTO and CanonFoto. The Haukland 7-in-1 jacket (formerly 5-in-1 jacket) and the Haukland x EVOC photo backpack were tested.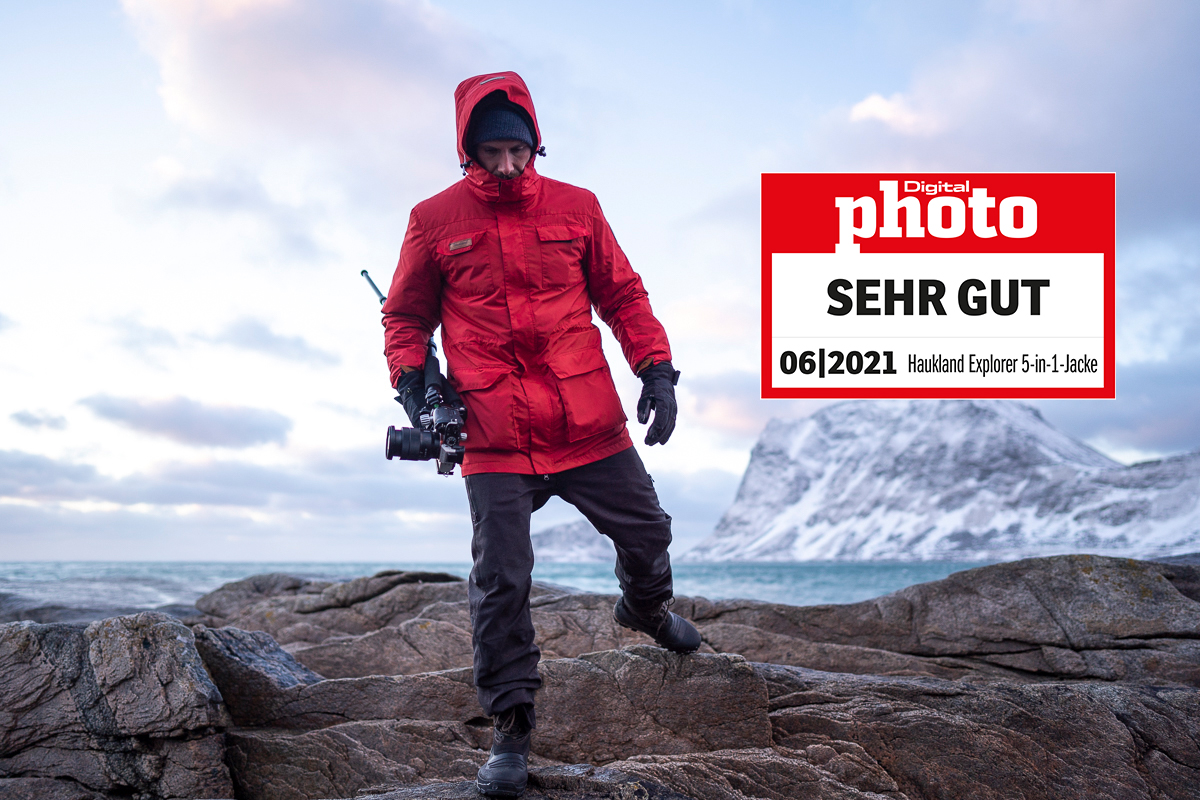 Haukland 7-in-1 Jacket "very good"
The Haukland 7-in-1 jacket consists of an outer, a padded, and a fleece jacket and can be worn in 7 ways and in any weather. Special features for photographers are the "mini photo bag" integrated into all jackets and the microfiber cloth strap inside the left sleeve. In the DigitalPHOTO test (06/2021 issue), all three layer jackets impressed with their quality workmanship, wearing comfort, and features. As a result, Haukland achieved the test grade of "very good".
Haukland x EVOC photo backpack: Two German quality brands use common strengths.

In addition to functional clothing, every landscape photographer and videographer needs a practical bag to carry their valuable equipment. Long hikes, steep climbs, or challenging terrain are all not uncommon for a landscape photographer on the hunt for the perfect photo.
A highly functional, reliable, and lightweight camera backpack that takes the strain off your back, offers smart storage options, and can handle any situation is essential. Haukland founder and professional photographer Benjamin Jaworskyj and the experts at EVOC took a close look at the compact EVOC CP 18L photo backpack from the EVOC Professional Line, which was developed for demanding sports photographers, and modified it for landscape photographers.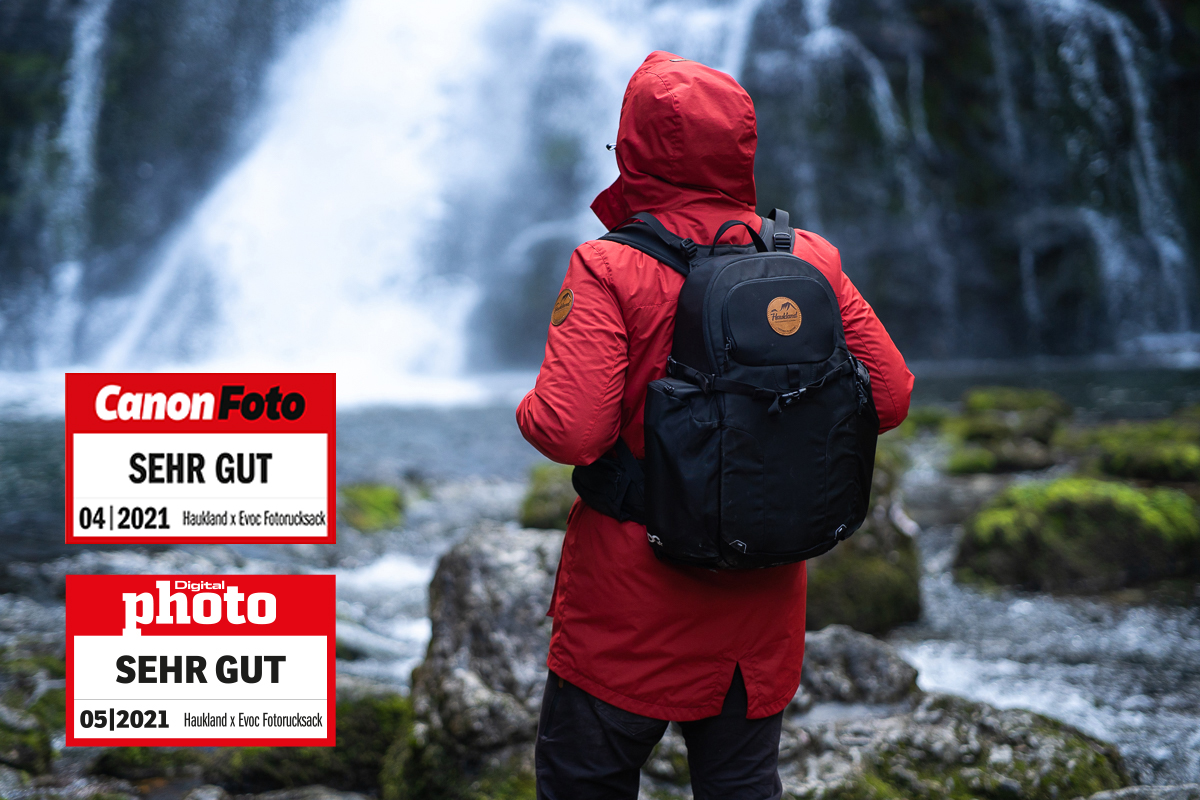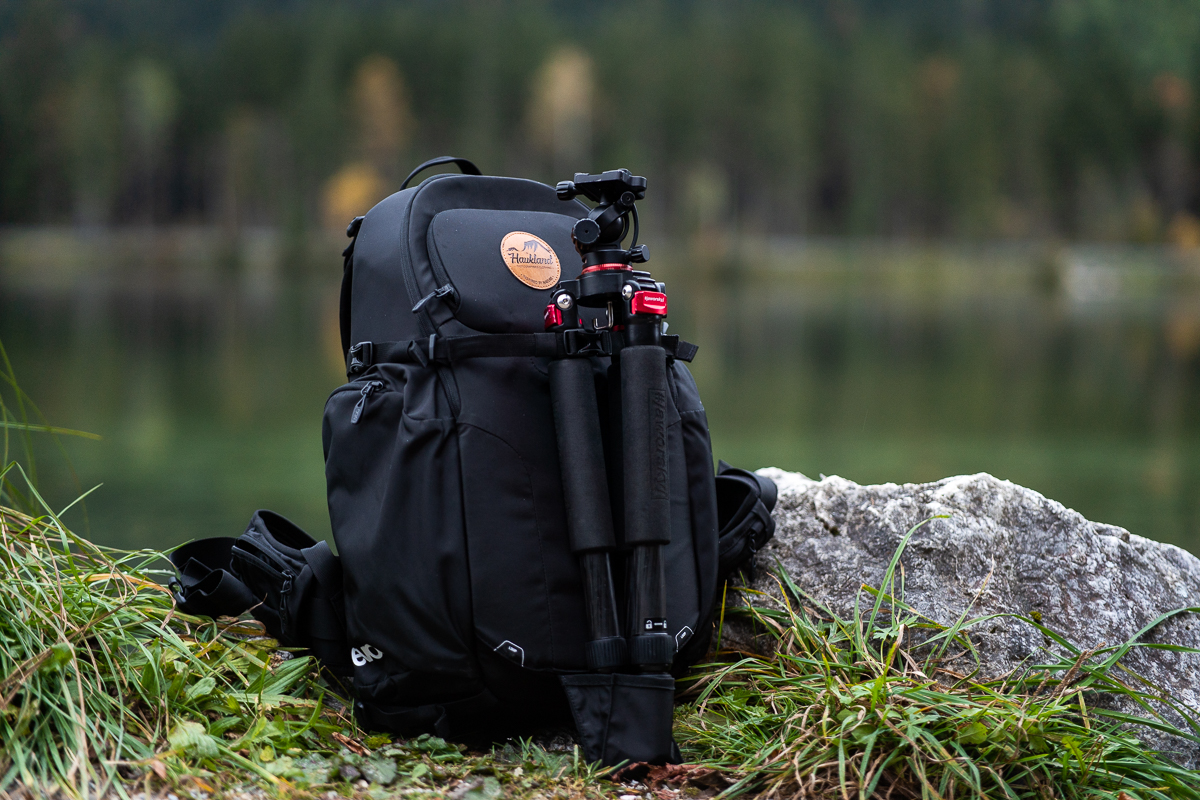 Haukland x EVOC photo backpack also rated "very good
Many years of know-how pay off: The high-quality workmanship, the carrying system, and the extensive features of the Haukland x EVOC photo backpack are convincing. The magazines DigitalPHOTO (05/2021 issue) and CanonFoto (04/2021 issue) awarded Haukland the test rating "very good".
PRODUCT DESCRIPTION
Haukland Explorer 7in1 jacket for women and men
Construction: 7in1 outdoor jacket incl. outer, padded & fleece jacket
Material:
Outer jacket – tear-resistant 228T nylon with mesh lining
Padded jacket – 100% Nylon 20D with lining made of 100% polyester
Fleece jacket – 100% Polyester with high insulation value and anti-pilling
Features Outer Jacket:

windproof, waterproof

 

and

 

breathable
11 pockets (inside and outside)
with hood (adjustable)
continuous welded 2-way zipper with chin guard
Extras:

 

Microfiber cloth holder in the sleeve, small photo backpack inside, DWR-impregnated, elastic Windstopper sleeve cuffs, ventilation zips under the armpits, adjustable sleeves
Features Padded & Fleece Jacket:
8 pockets
with hood
Extras:

 

Microfiber cloth holder in the sleeve, small photo backpack inside, pockets with zipper
Colors: Yellow, Red, Olive, Black-Blue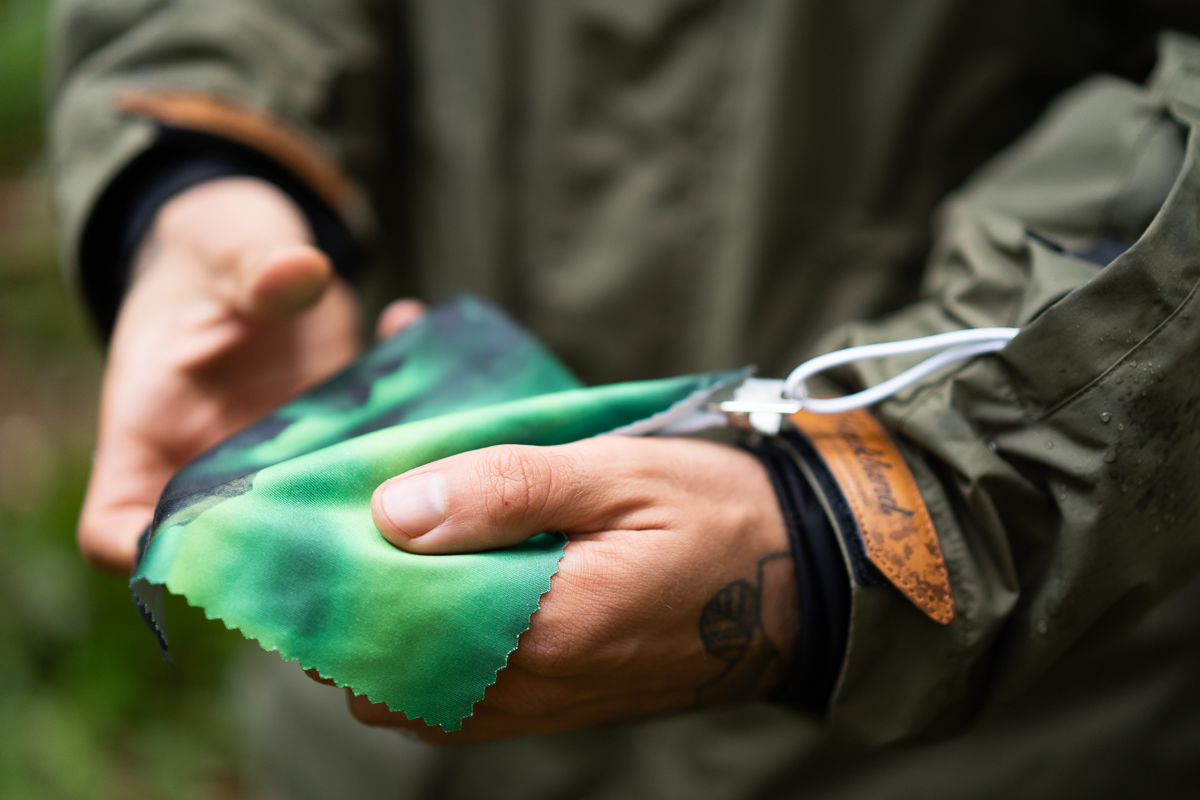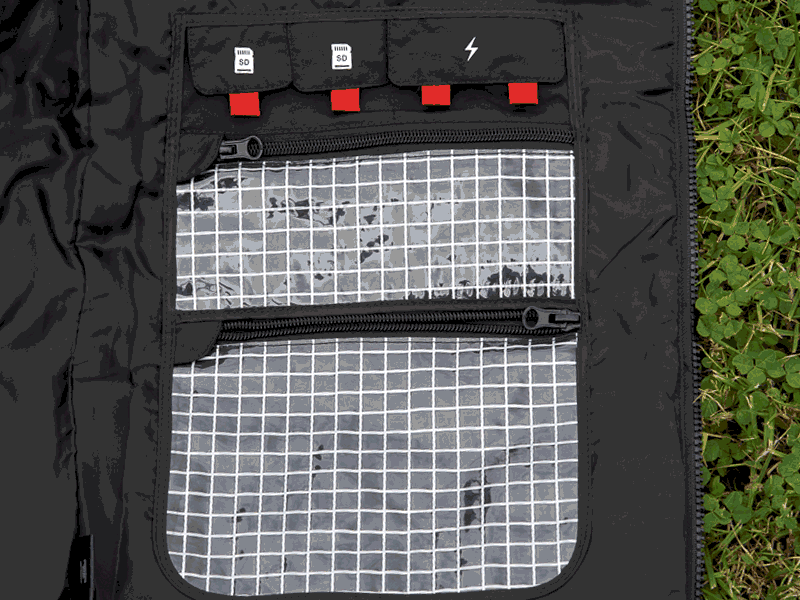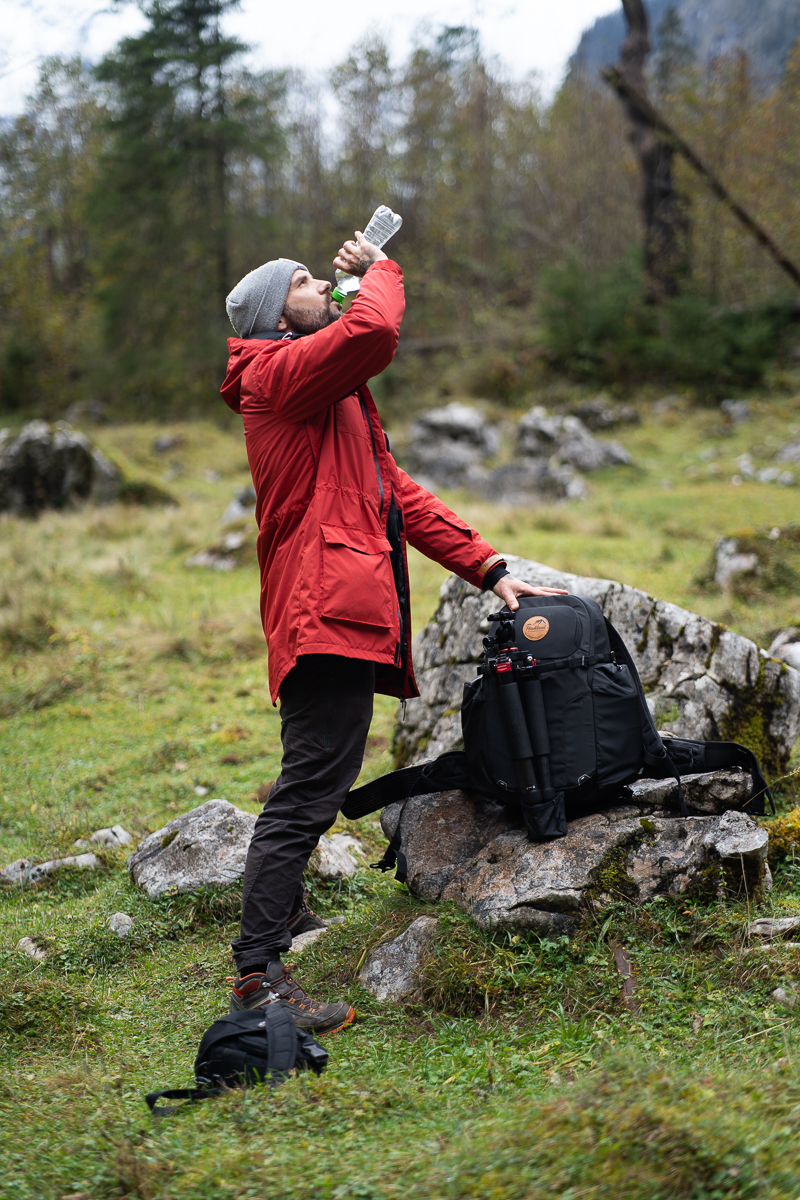 Product description
Haukland x EVOC Photo Backpack CP 18l
Volume: 18 liters
Weight: 3.96 lbs / 1800g
Measurements: 11.4 x 20.4 x 6.69 inches / 29 x 52 x 17 cm
   Lightweight compact photography backpack
   Water-repellent + rain cover
   Carry-on luggage size
   Theft secure
   13-inch laptop compartment
Solid gel back plate
Airo Flex adjustable comfort hip belt
Color: Black
About Haukland
Haukland® is an outdoor clothing brand for photographers. Designed and developed in Germany in 2018 by a team of fashion specialists and adventure photographer Benjamin Jaworskyj.
The centerpiece is the Haukland 7-in-1 jacket for photographers, consisting of 3 jacket layers that can be combined in more than 7 ways, for any weather.
Complementary products such as the 3-in-1 winter glove for photographers and the 18-liter backpack for photographers, in collaboration with EVOC Sports, complete the collection.
10% of all profits go to charity, and many products use sustainable materials such as recycled polyester or organic cotton.
Haukland® hosts the annual Photographer of the Year Award, in which all customers can participate and win a photo trip to Norway.
Subscribe to our newsletter to receive information about Haukland, promotions and new products: